Metal Coins and Tokens > Custom Engraved Oxidized Silver Coins and Tokens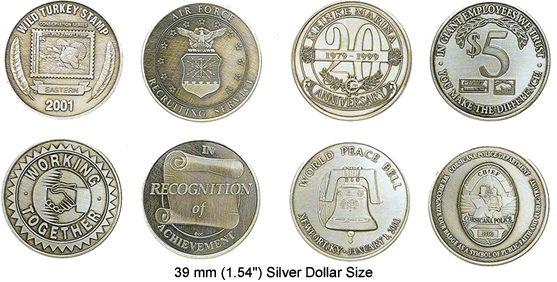 These Antique Silver Finish Coins Can Be Custom Made with Any Design You Choose
Our Oxidized Silver Finish Coins begin with a Golden Coin. The coin is given a plating of silver, and then each custom coin is chemically aged and individually hand buffed. The resulting coins have a beautiful, pewter-like finish. Any of our coins and tokens can be personalized with one of our 100+ stock designs or with the image of your choice.
Oxidized Silver Coins and Tokens Pricing

Swipe left and right to see table.
Pricing Includes:
Pricing includes antique finish, lacquering to retard tarnishing, and individual poly bagging.
Pricing Notes:
Coin prices are the same whether striking one or two sides (one die is needed per side).
Normal Shipping:
4 weeks from receipt of camera-ready artwork.
To Order, Please Call 1-800-233-0828