Metal Coins and Tokens > Antique Bronze Custom Engraved Coins and Tokens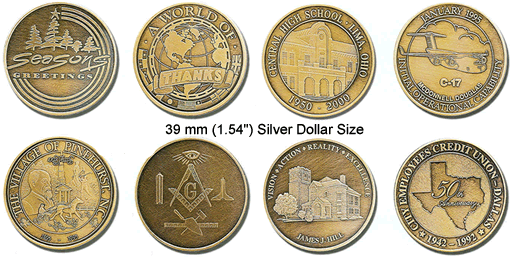 These Classic Looking Bronze Tokens are Ideal for Those Seeking Custom Metal Coins with a Traditional Look.
Antique Bronze Coins and Tokens begin with a Goldine coin that is chemically aged to build up a rich oxidized coating. Each coin/token is then buffed to accent the fine details of your design. Any of our coins and tokens can be personalized with one of our 100+ stock designs or with the image of your choice.
Antique Bronze Coins and Tokens Pricing

Swipe left and right to see table.
Pricing Includes:
Pricing includes application of antique finish, lacquering to retard tarnishing, and individual poly bagging for all coin sizes.
Pricing Notes:
Coin prices are the same whether striking one or two sides (one die is needed per side).
Normal production:
2-4 weeks from receipt of camera-ready artwork.
To Order, Please Call 1-800-233-0828