Metal Coins and Tokens
Custom engrave metal coins and tokens with your design and copy, or choose from our 100+ stock designs. These metal coins and tokens are available in six different finishes: Anodized Aluminum, Antique Bronze, Antique Silver, Goldine, Nickel-Silver, and Natural Aluminum. Our minimum order is only 250 coins (1000 for aluminum). Volume Discounts are available. Delivery time is approximately four weeks (allow six weeks for Silver).
Hundreds of Uses for Metal Coins and Tokens
Metal Coins and Tokens can be used for bar drink tokens, commemorative coins and awards, Mardi Gras, parades, games, mailings, and giveaways.
Anyone Can Use Metal Coins and Tokens
Metal Coins and Tokens are a great promotional tool for bars, lounges, and restaurants; clubs and organizations; conventions and fairs; grocery stores and shopping centers; insurance and real estate agencies; schools; auto dealers; hospitals; credit unions; retail stores, and banks.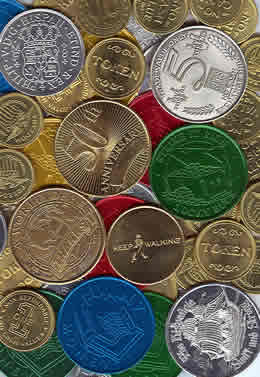 Choose Your Finish
We have six finishes for you to choose from. Please click on the finish below for more information.