Wooden Nickels & Dollars
Custom imprint wooden nickels and dollars with your design and copy, or choose from our stock designs. Our minimum order is 500 Wooden Nickels and 250 Dollars. Volume discounts are available. Delivery time is one week to ten days. Quick print/delivery is available.
Wooden Nickel & Dollar Features
7 imprinted colors available (black is recommended)

2 sizes: nickel size is 1.5 inch diameter; dollar size is 2 inch diameter

holes available

made in the USA
Hundreds of Uses for Wooden Nickels & Dollars
You can use wooden nickels and dollars for promotional incentives, economy key chains, bar drink tokens, pizzeria/restaurant chips, magnets (magnet is applied to back of wooden nickel or dollar), towel and hat checks, meal and ride tokens, bottle returns, bus and parking tokens, game schedules, and admission tokens.
Anyone Can Use Wooden Nickels & Dollars
Wooden nickels and dollars are a great promotional tool for bars, lounges, and restaurants; clubs and organizations; conventions and fairs; shopping centers, banks insurance and real estate agencies; schools; auto dealers; hospitals; credit unions; retail stores; savings and loans, & grocery stores.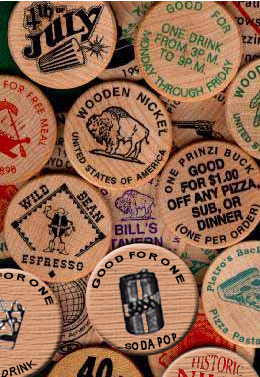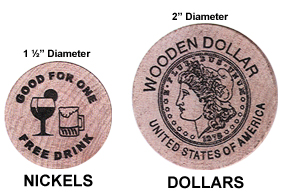 Wooden Nickels & Dollars Pricing

Swipe left and right to see table.
Custom Design or Logo:
$25.00 additional (no charge for regular text)
Ink Charge for Colors Besides Black (Nickels Only):
$25.00 additional for Red, Blue, Green, Brown, Purple, or Orange Ink. NOTE: For Dollars, each imprint color besides black counts as a separate order and pricing applies to the Dollar quantity for each imprint color. Also, one $20 setup applies per color for the Wooden Dollars.
Wooden Dollar Quick Print Charge:
For 5-7 working day production time, add 35% of base price. NOTE: Regular production time for Wooden Nickels is 5-10 business days and rush service is unavailable.
To Order, Please Call 1-800-233-0828