Molded / Embossed Custom Plastic Tokens –
Low 1,000 Token Minimum!
These Custom Molded/Embossed Plastic Tokens feature any design(s) you choose on both sides of the tokens. Our Customized Molded Plastic Tokens come in four sizes: 15/16", 1", 1-1/8", and 1-3/8" diameter. We also offer Molded Hexagon shaped Plastic Tokens. The minimum order for Custom Molded/Embossed Tokens is only 1,000 pieces!

Custom Molded Plastic Tokens Come in a Range of Sizes and Colors!
Custom Molded Token Features
Your design is molded into the tokens
Choose from over a dozen token colors
Four round sizes and one hexagon size available
Made of durable plastic (1/12" thick)
Embossed Plastic Tokens Have a Wide Range of Uses
Reusable and less expensive in the long run then paper vouchers, these Customized Molded Plastic Tokens are great for a myriad of purposes. They're terrific as Drink Tokens, Souvenir Coins, Feedback Tokens, Plastic Vouchers, Mardi Gras Coins, Discount Tokens, Parking Tokens, and much more.
Anyone Can Use Our Custom Molded Plastic Coins
All types of businesses and organizations can use these Customized Molded Tokens. Our Custom Embossed Tokens are great for Restaurants, Bars, Large Companies, Small Businesses, Non-Profit Organizations, Clubs, Colleges and Schools, Churches, and many other entities!
Custom Molded Plastic Token Pricing –
FREE Setup!
Token Color Change:
$45.00 - applies to each additional token color requested after first color (1,000 token minimum per color)
Production Time:
3 Weeks after proof approval
Plastic Token Counting/Storage Trays are also available! Choose from two types of counting trays: 1) one for 0.91'', 0.98'', and 1.14'' round tokens and 2) one for the 1.37'', 1.5'' round, and 1.2" hexagonal tokens. The trays for 0.91'', 0.98'', and 1.14'' tokens are gray. The trays are white for our 1.37'', 1.5'', and hexagonal tokens.
Each tray holds 500 tokens (with 50 compartments that hold ten tokens each).
NOTE: These trays are only available for the following types of Plastic Tokens: Full Color Tokens, Molded Plastic Tokens, and Transparent Plastic Tokens.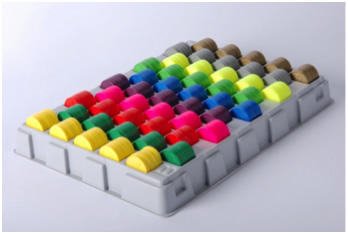 Token Tray Pricing:
Tray #1 for 0.91'', 0.98'', and 1.14'' Embossed Tokens:
$22.50 per Token Tray
Tray #2 for 1.2", 1.37'', and 1.5" Embossed Tokens:
$29.50 per Token Tray
For
FREE Token Samples

or additional information on our Custom Molded/Embossed Plastic Tokens, or any of our other Custom Plastic Tokens, please contact us at 1-800-233-0828.
To Order, Please Call 1-800-233-0828