Full-Color Drink & Game Tokens -
New Low Prices!
These Full Color Custom Printed Plastic Tokens are printed with any full color design(s) you choose on both sides of the chips. The minimum order is 1,000 customized plastic tokens. Volume discounts are available. Production time is about three weeks after proof approval.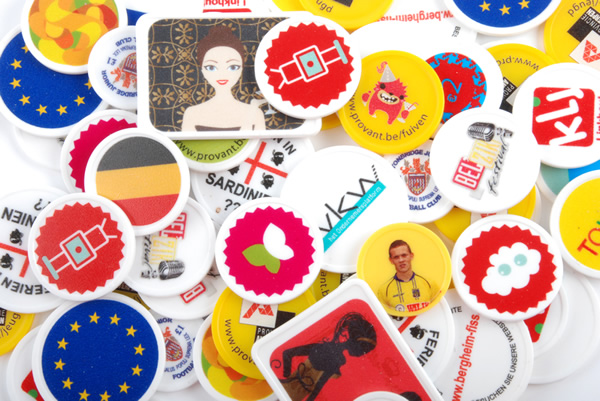 Plastic Token Features
Printed on white or colored plastic tokens
Feature your full color design(s) on both sides
15/16" to 1-1/2" Round sizes
1.96" L x 1.45" H Rectangle size
Made of durable plastic (1/12" thick)
Hundreds of Uses for Plastic Tokens
You can use tokens for promotional incentives, meal and ride tokens, bottle returns, bus and parking tokens, economy key chains, bar drink tokens, pizzeria/restaurant chips, towel and hat checks, game schedules, admission tokens, check cashing, and more!
Anyone Can Use Plastic Tokens
Plastic tokens are a great promotional tool for bars, lounges, and restaurants; conventions and fairs; insurance and real estate agencies; schools; auto dealers; hospitals; clubs and organizations; credit unions; retail stores; banks & savings and loans; grocery stores; and shopping centers.
Full Color Plastic Token Pricing - Free Setup

Swipe left and right to see table.
Plastic Token Colors: Black, Gray, Dark Blue, Light Blue, Dark Green, Light Green, Gold, Orange, Day Glow Pink, Purple, Red, Turquoise, White, and Yellow
Colored Token (other than white):
Add $0.02 per token
Consecutive Numbering:
$75.00 flat fee per order
Production Time:
About 4 Weeks
Plastic Token Counting/Storage Trays are also available! Choose from two types of counting trays: 1) one for 0.91'', 0.98'', and 1.14'' round tokens and 2) one for the 1.37'', 1.5'' round, and 1.2" hexagonal tokens. The trays for 0.91'', 0.98'', and 1.14'' tokens are gray. The trays are white for our 1.37'', 1.5'', and hexagonal tokens.
Each tray holds 500 tokens (with 50 compartments that hold ten tokens each).
NOTE: These trays are only available for the following types of Plastic Tokens: Full Color Tokens, Molded Plastic Tokens, and Transparent Plastic Tokens.