NEW!

Custom Transparent Plastic Tokens
Our new Transparent Custom Tokens are available with any full color print you choose on the tokens. Customized Transparent Plastic Tokens come in four circle sizes and also in a rectangle shape. The minimum order is 1,000 Translucent Plastic Tokens, and production time is about four weeks.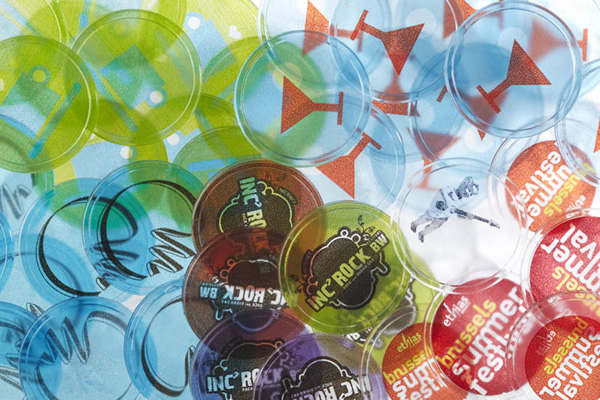 Transparent Plastic Token Features
Distinctive transparent look that grabs people's attention
Detail-rich, high-resolution custom printing
Abrasion resistant - perfect for frequent use
Four round sizes and one rectangle shape available
Made of durable plastic (1/12" thick)
Stand Out From the Crowd with Transparent Plastic Tokens
Transparent Custom Printed Plastic Tokens are unique among drink tokens. Unlike regular Plastic Drink Tokens that are made on opaque plastic with a one-color imprint, these Customized Tokens are transparent and they feature any full color design you choose on them. Token recipients will love receiving and using these stylish Translucent Plastic Tokens.
Transparent Plastic Tokens are Great for a Wide Range of Uses
Custom Printed Transparent Plastic Tokens can be used by an organization for all sorts of uses. Customized Transparent Tokens are great for Restaurants, Blubs/Bars, Special Events, Tradeshows, Incentive Programs, Carnivals, Festivals, Promotions, and much more.
Transparent Plastic Token Pricing

Swipe left and right to see table.
Plastic Token Counting/Storage Trays are also available! Choose from two types of counting trays: 1) one for 0.91'', 0.98'', and 1.14'' round tokens and 2) one for the 1.37'', 1.5'' round, and 1.2" hexagonal tokens. The trays for 0.91'', 0.98'', and 1.14'' tokens are gray. The trays are white for our 1.37'', 1.5'', and hexagonal tokens.
Each tray holds 500 tokens (with 50 compartments that hold ten tokens each).
NOTE: These trays are only available for the following types of Plastic Tokens: Full Color Tokens, Molded Plastic Tokens, and Transparent Plastic Tokens.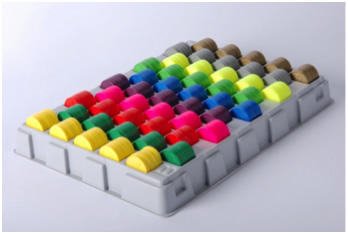 Token Tray Pricing:
Tray #1 for 0.91'', 0.98'', and 1.14'' TransparentTokens:
$22.50 per Token Tray
Tray #2 for 1.37'' and 1.5" Transparent Tokens:
$29.50 per Token Tray
For
FREE Token Samples

or additional information on our Custom Transparent Plastic Tokens, or any of our other Custom Plastic Tokens, please contact us at 1-800-233-0828.
To Order, Please Call 1-800-233-0828